Hey guys! It's Monday, and that usually means an update here at the Lav! BUT….
I started playing the new Donkey Kong Country this weekend… and haven't stopped. I've barely paused to break for maintaining bodily functions. This game has stolen my soul and hijacked my life (and I'm lovin' it)! I'm afraid I'm not going to get anything of substance up on here until I get this monkey off my back and out of my system.
Until then, Roll has volunteered to entertain you all! From CAP! vol. 7, more of Ryuji Higurashi's fan art days. This image was inspired by that one.
Take it away, Roll!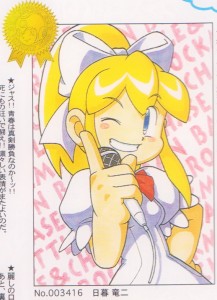 (click to set the mood)