You probably wouldn't know it just from playing the games, but Duo is a space cop on a mission of interplanetary justice. Or so Keiji Inafune and passages like this one have suggested.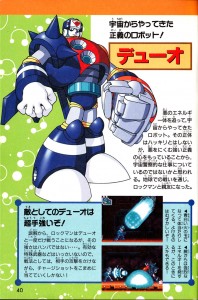 From Comic BonBon Special #110, the Saishinban Rockman Super Daihyakka, page 40:
The robot of justice who came from outer space!
Duo
A robot who arrived from outer space while chasing a form of Evil Energy. Although his true character is not entirely known, because of his loathing of evil and strong sense of justice, it's a good guess that he's probably some kind of space police force officer. Through the course of the battle on Earth, he and Rockman became good friends.
As an enemy, Duo is super tough!
Due to a misunderstanding Rockman and Duo engaged each other in battle for the first and only time, but Duo may have used only a fraction of his strength…. All of Rockman's special weapons are useless against Duo, so the best tactic is to dodge his attacks and counter with the Charge Shot!
This crash attack involves transforming into a pale blue shooting star and ricocheting around. Talk about difficult to dodge!
When he fires an intense blast of energy from his arm, you'll have a chance to counterattack!