The world of ZX is known for its trendy fashion and incredible hairstyles. After all, where would the game be without Serpent's luscious soul 'fro?* Therefore it's only natural that all this series' topics from The Answer have to do with how people look and what they're wearing. (All two of them.)
*Soul 'fro not included in actual game.
---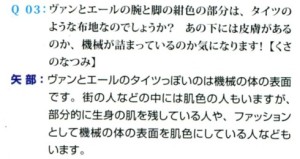 Q03: You know those dark blue sections on Vent and Aile's arms and legs that almost look like tights or some kind of fabric? I've been wondering what's underneath–is it just their skin, or a covering for machinery?
Yabe: Vent and Aile's tights-like portions are the outside surface of their machine bodies. You may notice that some of the townspeople have more flesh colored sections–some of these are people who kept their flesh and blood skin, while there are others who for reasons of fashion have their machine bodies take on the appearance of skin-color.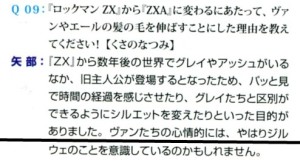 Q06: Can you tell us the reason why from the time going between ZX and ZXA, Vent and Aile grew out their hair long?
Yabe: Since the world Grey and Ashe in habit takes place several years after ZX, when it came for having the former protagonists appear, we wanted their appearance to give off a sense that time had passed, and we also wanted to change their silhouettes to keep them distinct from Grey's group so they could be easily told apart. Perhaps Vent and Aile have also grown emotionally, giving off a sense of maturity akin to Girouette.
---
The second image is labeled Q09, but this is a typo in the book. There are only 6 questions to the Zero/ZX/ZXA section. It's also spread across two columns which I stitched together, which is why I drew that ugly black line in there.
I'm glad that it's confirmed that those navy sections are machine body parts. In that case, Aile appears to be mostly machine. Ashe, too.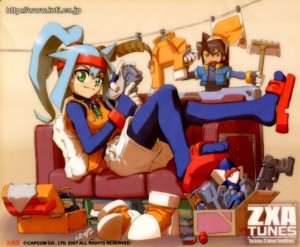 No wonder repliroids and humans are regarded as basically the same species.
Kind of a shame there weren't more ZX questions answered, and at that the hair question was already answered adequately in the Japanese Rockman ZX blog and other places… Still, these questions have (mostly) clear answers, at least. At this point, I'll take what I can get when it comes to ZX.