Third time's the charm.
Both the US and JPN manuals for game 3 contained a lot of landmark firsts. The first Japanese manual that actually looks like a game booklet, for one. And with 32 full color pages and a history section to grant an overall picture of the franchise, what a manual it is! The US Manual was no slouch either, also the first in its line to have 18 full color pages (and 4 black and white pages), plus other exclusive goodies to its own side.
We'll do the Japanese instructions first, followed by the American (just as before). This time the translation will follow after each image to make reading a little easier to enjoy. The US manual scans will look a little nicer this time, since after what happened to my Mega Man 2 manual as a kid, I was pretty careful to keep this one nice.
Rockman 3 Japanese Manual ("R3 Man" below):
---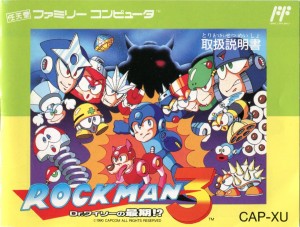 Nintendo Family Computer
ROCKMAN 3 End of Dr. Wily!? Instruction Manual
CAP-XU
Thank you for purchasing this Capcom "Family Computer Cassette: ROCKMAN3 (CAP-XU)".
Please read this "Instruction Manual" carefully before operating to ensure correct handling and use of this product. Additionally, keep this "Instuction Manual" stored properly in a safe place.
Operational Warning:
(Take a 15 minute break every 2 hours of play, avoid static shock, don't yank the game out when the power is on, don't get it wet, don't feed it after midnight, & whatever you do, don't. ~#20)
CONTENTS
| | |
| --- | --- |
| STORY | 4 |
| USING THE CONTROLLER & SLIDING | 5 |
| GAME START | 6 |
| SCREEN EXPLANATION | 7 |
| ABOUT CHANGING WEAPONS | 8 |
| RUSH THE WONDER-DOG!! | 9 |
| MASTER SLIDING!! | 12 |
| ABOUT ITEMS | 13 |
| THE CHARACTERS OF ROCKMAN 3 | 14 |
| THE HISTORY OF ROCKMAN | 25 |
| ABOUT THE PASSWORD | 30 |

STORY
PEACE HAS COME TO THE WORLD.
Dr. Wily has reformed, and he and Dr. Right have joined forces, working together to develop a giant peace-keeping robot named "GAMMA".
"GAMMA"…… It was the life-long dream of Dr. Right, a giant robot to protect and serve world peace.
Their research almost complete, all that remained was to combine 8 energy elements that were scattered about the uncharted planets, and bestow them to "GAMMA"…
–However, each planet met with an unexpected incident. The robots who were mining the energy elements suddenly began going berserk!! Upon learning of this from Dr. Right, "ROCKMAN" immediately set out on a path for the uncharted planets–a new battle was about to begin!!
USING THE CONTROLLER & SLIDING
Controller 1
*Controller 2 is not used.
(That's not what I remember! ~#20)
A Button — Jump
B Button — Attack
Start Button — Open Weapon Select Menu & Make Selection
Directional Key Pad up to grasp and climb ladders. (Press the A Button to let go.)
Directional Key Pad down + A Button — Sliding

GAME START
When starting the game, the 8 boss characters of each stage are displayed on the screen. Begin playing any stage by moving the cursor over that character's image and pressing the Start Button.
After defeating the boss of each stage, you will obtain the weapon wielded by that boss.
SCREEN EXPLANATION
Weapon Energy Gauge
Life Energy Gauge
Enemy Energy Gauge (BOSS only)
Weapon Display
Player Count
E-can Count
Weapon Select Area
«Cockpit»

ABOUT CHANGING WEAPONS
«Cockpit»
After defeating a boss and acquiring its weapon, pressing the Start Button during the game will enable switching weapons by opening the weapon display area.
By moving the Directional Key Pad up down left and right, select the initials of the weapon you wish to use and press start to confirm your selection!
Selecting NEXT will bring up weapon display area 2 on the screen.
RUSH THE WONDER-DOG!!
Rush has 3 useful forms which can be selected for use in the same manner as choosing a weapon.
However, at the start of the game only the Rush Coil is available, while the other two forms can only be acquired by defeating certain bosses.
Rush cannot appear on the screen more than once at a time.

Rush Coil
This ability is available from the start.
Get atop Rush to perform a super jump.
Rush Marine
Enables swimming through the water, horizontally or vertically.
On land, it is only able to jump.
Rush Jet
Soars freely through the air.
Watch its energy usage carefully!!
Rush Marine and Rush Jet can continue be used for as long as there is energy remaining.
When you want to cut them off, just open the weapon select window and choose another weapon!
(WARNING)
Cancelling Rush while moving over a danger zone or an area without footholds will cause the player to drop and fall. Please use caution.

MASTER SLIDING!!
By holding the Directional Key Pad down and pressing the JUMP button, the player can perform a slide to get out of many tough situations!!
By using this nimble burst of speed, you can slide underneath and slip past your enemies, and that's not all!!
There are some narrow passageways that can only be traversed by sliding!!
ABOUT ITEMS
Life Energy
Recovers the player's life.
(Large/Small)
Weapon Energy
Recovers weapon energy.
(Large/Small)
1UP
Player count increases by 1 man.
Energy Can
When this item is used, all life energy is fully recovered.
? Can
Attack this, and it'll transform into one of the other 6 previously mentioned items.

THE CHARACTERS OF ROCKMAN 3
Please understand, the submitted characters' names and designs may have been changed somewhat. (Titles withheld)
No.017
NEEDLE MAN
Nobuhiko Akatsuka
Higashinari-ku, Osaka-shi
No.018
MAGNET MAN
Nagashi Kii
Joyo-shi, Kyoto-fu
No.019
GEMINI MAN
Yoshihito Hattori
Kakamigahara-shi, Gifu-ken
No.020
HARD MAN
Kazuhiko Oguro
Nakano-ku, Tokyo-to

No.021
TOP MAN
Yasushi Konjiki
Matsumoto-shi, Nagano-ken
No.022
SNAKE MAN
Yuhjiro Ishitani
Shiki-gun, Nara-ken
No.023
SPARK MAN
Mikihiro Suzuki
Higashi-ku, Nagoya-shi
No.024
SHADOW MAN
Takumine Yoshida
Sagamihara-shi, Kanagawa-ken

Hologran
New Shotman
Jamacy
Mag Fly
Walking Bomb
Bomb Flier
Bomber Pepe
Dada
Returning Monking
Metall DX

Penpen Maker
Giant Springer
Tama
Petit Snakey
Big Snakey
Peterchy
Pickelman Bull
Have "Su" Bee
Chibee
Gyoraibo

Pole
Mechakkero
Potton
Bikky
Parasyu
Elec'n
Bubukan
Yambow
Hammer Joe
Nitron

AGENT OF MYSTERY BLUES APPEARS
No.??? BLUES
The man of mystery "BLUES" appears in certain stages to challenge Rockman to battle. But just what is he, an enemy? An ally?
THE HISTORY OF ROCKMAN

"ROCKMAN" STORY
In the year 200X, industrial use humanoid robots have been created thanks to the steady progress of science. These robots can work round the clock tirelessly 24 hours a day, at a superhuman rate.
Then one day, some shocking news reached the world's foremost designer of industrial robots, Dr. RIGHT.
"Doctor, the robots you developed have begun going out of control one after another! At this rate, mankind will be ruled by robots!"
Humanity will be dominated by the robots!? Surely, this could only be the work of that evil genius, Dr. WILY. He must have modified the robots designed by Dr. Right to hijack their powers and make the whole world his plaything.
"ROCK" was a household robot whom Dr. Right had always regarded as his own son. Now, in order to stop the 6 robots he had built with his very own hands and to recover each of their central cores, the Doctor has transformed Rock into the fighting robot "ROCKMAN"!
Go! Go! ROCKMAN!! Only you can safely retrieve the 6 robots, then destroy Dr. Wily's robot factory to restore peace!!
"ROCKMAN 2" STORY
Thanks to the efforts of the super robot "ROCKMAN" created by Dr. Right, the evil desires of that mysterious scientific mastermind Dr. Wily were stopped and peace has been restored to the world.
However, in spite of the massive blow he received, Dr. Wily's dreams of world domination did not end there. Dr. Wily constructed 8 powerful robots of his own and dispatched them to challenge "ROCKMAN" to a new battle……
BLUES
ROCKMAN
ROLL-chan

THE CHARACTERS OF "ROCKMAN"
The Dr. RIGHT NUMBERS
No.003
CUT MAN
No.004
GUTS MAN
No.005
ICE MAN
No.006
BOMB MAN
No.007
FIRE MAN
No.008
ELEC MAN
THE CHARACTERS OF "ROCKMAN 2"
The Dr. WILY NUMBERS
No.009
METAL MAN
No.010
AIR MAN
No.011
BUBBLE MAN
No.012
QUICK MAN
No.013
CLASH MAN
No.014
FLASH MAN
No.015
HEAT MAN
No.016
WOOD MAN

ABOUT THE PASSWORD
After clearing a stage or getting a Game Over, a password like the one in the image above will be displayed. The bosses you've defeated, as well as the weapons and items you've obtained will be stored in the password according to the location of the chips. (The player count is not saved, however.)
Come time to input the password, use the A Button to select a chip color, then move the cursor to the proper location and press the A Button again to place each chip.
The A Button can also be used to remove a chip that's already been placed.
(Last page legal stuff… can eat me. ~#20)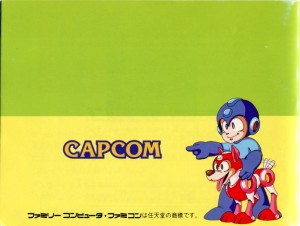 Mega Man 3 US Manual ("M3 Man" below):
---
Time to compare!
No more Captain Commando messages for M3 Man. This time, it's a thank-you letter from then-Capcom US VP Joe Morici, the man behind the "Mega" name.
The Story pages of both versions is more similar than ever before, even featuring the same artwork. R3 Man tells the story via narration, while M3 Man explains it in the form of a voice communication between Dr. Light and Mega Man. It's still technically possible to get confused which doctor is which, going from the manuals only. Dr. Right has been consistently changed to "Light" in the US manuals since the second one (so far), though they slipped up and used "Right" in the game itself, exposing the region to 3 different names for the good doctor (Wright, Light, Right). And just what is the deal with those mining worlds, the uncharted planets? The terms have never been too specific, I suppose they could be any planetary or celestial bodies, including moons, planetoids or asteroids (which is what Ariga went with for Rockman Gigamix).
R3 Man and M3 Man share some pictures, but also have others that are exclusive to one another. The images of the items in M3 Man were original to that manual. R3 Man has a less than complete listing of stage enemies this time, but the full color images are still pretty nice. Like the manuals before, R3 Man contains screenshots, but M3 Man has none.
R3 Man has more images of Rush and his transformations. M3 Man is a bit more elusive, choosing to describe the forms without directly saying what the letters "RC", "RM", and "RJ" stand for. RM's description is a little misleading, making it sound as though Mega Man is in danger of drowning under the water without it when it's just the same enemies, pits and spikes he's always had to watch out for. That last line always makes me smile though, "Rush has been sent to obedience school, so he disappears when you don't need him anymore."
Passwords aren't new of course, but the grid layout and having red and blue chips are. M3 Man erroneously says to remove a marker by pressing B, but that will just take you back to the marker color select side.
M3 Man marks the first use of the term "Robot Master" for the 8 boss robots. R3 Man keeps its own trend of "Dr. RIGHT/WILY NUMBERS". The names and locales of the boss contest winners were again announced in R3 Man, and ignored in M3 Man. I think M3 Man also marks the first manual where Mega Man is told to "POWER UP!"
As was previously the tradition, R3 Man leaves the specifics of the special weapons up to the player to discover. This time M3 Man follows suit, despite that the M2 Man set precedent on giving data on the weapons.
Continuing to cover what the other version fails at, R3 Man offers tips on how to use the new sliding mechanics, while M3 Man offers some good advice like shooting through walls and making the best of your post-damage invincibility, but explains nothing about the slide except for how to perform it on the controls page.
Roll is mentioned for the first time in any instruction manual! In R3 Man, at least. "Mega Girl" would have to wait until the end credits for her name and nature to be revealed.
M3 Man doesn't mention Blues/Protoman/Breakman at all. R3 Man extends 2 pics and a short explanation of Blues that's ripe with mystery. The first picture of Blues wouldn't be seen in the US until the Mega Man 5 US Manual, while the second pic uses the Rockman 3 commercial's helmet-free version of the character that wasn't shown in the US until the Mega Man Official Complete Works book arrived on its shores.
R3 Man sports an in-depth section explaining the stories and bosses of the previous 2 games. M3 Man instead contains the commemorative pic of all the 1 & 2 bosses with Rock, but gives no context for it.
M3 Man has the typical FCC disclaimers and warranty warnings, plus 2 pages of black & white game ads and a blank page towards the end. R3 has some warnings too, but they tend to be more brief with less legalese.
I really like both of these booklets. As a kid I was very impressed with the colorful pictures and descriptions of the MM3 manual, and I was similarly blown away the first time I laid eyes on the Japanese version so many years later. These two were truly the gold standard of Rockman manuals for their respective regions.