In Japan, Rockman has enjoyed a long history of animated television commercials. Today I'll be looking at two such commercials for the Rockman X series that aired in the 90s.
From the Rockman X Ultra Encyclopedia:
Check it out!! An Ultra-Amazing Discovery!!
It's the Rockman X Animated Commercials!!
POWER UP PARTS!
WEEEEEEN!
LOADING!
COMPLETE!
ZZT ZZT ZZZZT!
EXPLOSIONS ROCK THE CITY OF THE FUTURE!!
SEND IN X!
DARK SHADOWS ARE CLOSING IN!
Take this! X-BUSTER!!
BOOM!!
We've uncovered these made for TV animations from around the times when the first and second games came on sale! Using superb computer graphics and special FX, these are completely extraordinary! Did you get to see them!?
---
Thanks to the internet, now we all can.
Here's the first one. It's got some really great tag lines in it. The Japanese voice-overs say:
"X!"
"In the year 21XX A.D. The Repliroids' rebellion has begun. A whole other kind of hero: Rockman X. For the Super Famicom, on sale now! You don't know X yet!"
"Capcom."
"X!"
"This winter, X will evolve. Non-stop action! Rockman X2! For the Super Famicom, on sale now!"
"Capcom."
The song from the X2 commercial is "Sekai ga Owaru Toki" from REDIEAN;MODE. The X1 commercial's background track was laid down by Capcom's own Alph Lyla, but sadly I don't think it's available by itself anywhere.
I really like the animations for these commercials. They have such a tremendously dark, futuristic feel that's parallel but almost outside the atmosphere of the games themselves. It's almost an exaggerated sense of everything: X downing that giant flying battleship in one shot, for instance. Or using the Item Tracer to search out his prey, Wheel Alligates. Things you can't really do in the game, but are pretty awesome regardless. And how about that wonderfully creepy depiction of Armor Armarge, that still gives me the chills!
The X2 commercial will always remind me of the gifs that were circulating in the early days of Mega Man's presence on the internet. You might remember what I mean if you've been around the Mega Man community for a while. (GIGA CRUSH!!) I wonder if anybody still has those…
EDIT: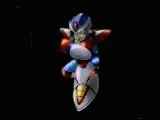 This!