One staple of the CFC-Style Fan Books was the feature "Uchihirano 3rd Block General Store". Named after Capcom's headquarters in Osaka, Japan, this continuing column provided Japanese fans a chance to look at rare Capcom paraphernalia, forgotten things from Capcom's early years or merchandise that was only released in certain parts of the globe.
Narrated by Capcom's own Ma-chan, the section usually included a bonus giveaway contest at the end where you could enter to win rare Capcom-related goods. In CFC's third volume that released around the springtime of 1997, "U3GS" did a feature on the Ruby Spears Mega Man cartoon. You might be surprised… or not.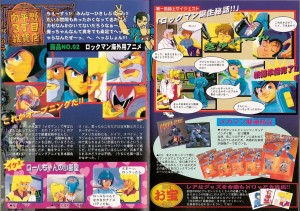 Uchihirano 3rd Block General Store
Hey everybody!! Long time no see!! As things are warming up, a lot of people out there are catching cold. But old Ma-chan never has to worry about that, I'm always cool as midwinter! …Ah- ACHOO!!!
---
Product No.02 Rockman's Overseas Anime
THIS IS THE OPENING!!
Did you know that Rockman is called "Mega Man" overseas? Right now in America, "Mega Man" is critically acclaimed animated television show.
This anime started airing in 1994, and I understand it received much higher ratings than other American-made cartoons. The style of the show, starting with Roll, has a real American feel to it, and the story and animation are top notch. Even the opening animation puts Japan to shame! Or so I thought, but this is actually the only thing that was made in Japan. Su~perb!
And I hear that soon, not only America, but places all over the world like Germany, Spain, and Brazil are scheduled to televise the show. I feel a global Rockman power explosion coming on! The show's even hit home video, although whether it'll ever be available here in Japan is anyone's guess. (Even we've only seen the first episode.)
---
Sexy! Roll's Closet
Roll is looking very adult!
Her left arm contains a secret weapon!!
"Hey Roll, that's some nice body you've got there!"
"Ugh, Ro~ck….!"
---
Episode 1 Abridged Digest
Rockman's Secret Origin!!
"Rock, I'm going to make you stronger than ever!!"
"'Kay."
*KYU-WEEEEN*
"And now for this finishing touch… There, all done!"
"You look way different than you do in Japan, with all those bulging muscles…"
"That's because to be accepted as a hero in America you've got to be macho, like this!"
*gulp gulp*
"This energy capsule is filled with some funky blue juice…"
BATTLE PREPARATIONS COMPLETE!!
"Okay, now I'm ready for anything!"
---
Mega Man Merchandise
Mega Man Collectible Figures
Made by Bandai / 12 in All
Naturally, these figures are modelled after the foreign design, but the quality looks splendid, and their sensual expressions are priceless.
CD
This strange feeling Rock soundtrack is like nothing you'd expect for an anime song album. The 12 tracks all feature vocals, and not one of them is anything like Rockman's image sound here in Japan.
---
Limited Quantity TREASURE!
We're once again giving away some rare goodies!!
Thank you everyone for the tons of entries we received from our last giveaway where we presented PGC cards!! This time for our bonus prize we'll be dishing out 5 actual "original cells" used for the Mega Man anime!!
So get your entries sent out to "Uchihirano 3rd Block General Store" right away! And don't forget to include your membership number! Ciao!!!
---
I was somewhat amazed (but not too surprised) to learn how little Capcom's Japanese side knew about the Mega Man cartoon. Even years after the show's debut, they'd only seen the pilot episode? Some might call that fortunate.
By the time this article was published the show's production was already canceled and re-runs started being regulated to "filler" time slots on many channels, but I can't tell whether the writer was aware of that or not. Overall, Ma-chan gives off a sense of being alternately impressed and bewildered by the show, which I think fans on our end of the globe have also expressed. Perhaps when it comes to the fanbase we're not so different, even if our versions of Rock and Roll definitely were.