Your pic this week is even more RockBoard! This is the official art for the four stages you play on, from the RockBoard Manual.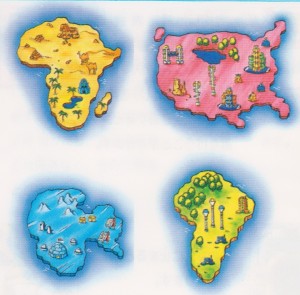 Fans of global geography will surely recognize that these maps were based on the real continents (and one country) of Africa, the United States, Antarctica, and South America. Or, as the game likes to call them, the Continent of Sand, Megalopolis, Cold Island, and the Green Continent.
Based on what I've learned from the game, in 20XX property prices will dive and a wide surplus of land will be put up for sale, urging on a worldwide upswing in commercial development that will be so accessible that even grade school age children will be able to participate. Better start saving your zenny!