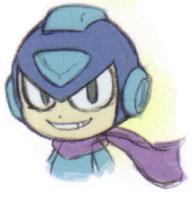 Playing through Rockman Rockman (actually, Rockman Timeman) recently, I noticed that the Japanese version held a clue to the reason behind the faker "Rockman?" that was absent from the English Powered Up dialogue. It gives an interesting insight about the alternate storyline of the bosses. Compare:
Powered Up version
Megaman?:
Hey, Timeman.
Think you can fit Dr. Wily
into your schedule?
Timeman:
Who are you?
Megaman?:
I think he's onto me.
Must be because I seem so much
smarter than the real one.
Rockman Rockman version
Rockman?:
タイムマン
オレはワイリーさまについていくことに
したぜ? オマエもこっちにこいよ?
Timeman:
だれ?
Rockman?:
ちぇ バレたか
まだしつこくワイリーさまに抵抗してる
バカな本物よりは かしこそうだからか?
My Translation
Rockman?:
Timeman.
I'm following Master Wily now, see?
You wanna join, too?
Timeman:
Who are you?
Rockman?:
Shoot, he figured me out?
Maybe because I'm way more clever than that
stubborn fool original who's still resisting Master Wily.
With that missing clue, it seems that Dr. Wily had to build an impostor because the original Rock was resisting Wily's reprogramming somehow. Reminds me of the US MM1 manual that also mentioned Mega Man resisting reprogramming. In the traditional Japanese Rockman origin story, Wily hadn't bothered trying to recruit Rock or Roll because of their status as household robots, just like we see in Powered Up's intro. It's interesting that they also incorporated the "Wily's failure to reprogram Rock" aspect for the tangent storylines.
Notes: "Rockman?" doesn't use near as many dialogue puns as "Megaman?" does. Too bad, since I feel it adds a humorous splash of character to the imposter.