Capcom Japan was unusually active for Rockman's 28th birthday this year, complete with its own hub page.
There's a simple icon pack you can download, with more packs on the way between now and the release of Rockman Classics Collection.
A twitter retweet campaign to win some rare backstock out-of-production goods.
There's also a Worst Rockman Trauma Contest, where they want to hear what your old war stories about which stages from Rockman 1~6 are the most difficult of all time. You can include all your most hair-pulling, controller-throwing, tantrum-inducing levels via the official submission form, or by tweeting @ROCKMAN_UNITY using the hashtag #ロックマントラウマ (which means #RockmanTrauma).
They have announced an art contest over at Nico Nico Douga to start in mid-January, seems rather similar to the art contest held on Capcom Unity for Mega Man Legacy Collection a while back. Not sure what luck you'll have if you try resubmitting, since Ucchy and Tsucchie were already judges for that contest too.
Cap-Bar, Capcom's restaurant enterprise, is also serving specialty menu items this week, including Rockman-themed birthday cakes as well as a blue "Rockbuster" drink that comes in both alcohol and non-alcoholic forms.
Capcom also wants to remind everyone that there's plenty of Rockman goodies to dig into on their CapCam mobile app, where you can take insert Capcom pitures and characters into your selfies and photos.
Most aligned with my interests, the Rockman Unity blog has posted an interview with original Rockman 1 & 2 programmer Nobuyuki "H.M.D." Matsushima. It turned out to be pretty much the same as the H.M.D. interview that ran in Famitsu magazine some weeks ago, but with a few more fun facts and anecdotes thrown in for good measure.
Finally, there's a new sneak peek at the upcoming Rockman Classics Collection and special limited edition planner, complete with commentary and Q&A from Rockman Classics producer Kazuhiro "Tsucchie" Tsuchiya. They've included another handful of samples from Dr. Right's Journal as well, one of which divulges that Cut Man's birthday (or completion date) is April 29 at 8:23 pm. How appropriate that we should learn this during the year of Cutman!
With all this and the Rockman stage show later this week at Jump Festa, this has been a surprisingly wide and multi-faceted celebration for an anniversary year that isn't really even one of the big seminal intervals.
One last thing I wanted to mention, while Rockman Unity became a hotbed of announcements earlier this week, it was confirmed that Rockman Classics Collection is going to include several "new" pieces missing from Legacy Collection in its Museum, most noticeably the U.S. Mega Man boxes. To my delight, they appear to be of better quality than the scans I took and uploaded a while back. You remember, that post where I was complaining about things that were absent from the Museum. And it looks like they've upped the ante with some scans of the Japanese game manuals as well.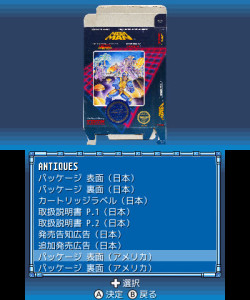 Touche, Capcom. Well played.