Your Friday art is from Carddas' All Capcom World '98 series. This set spanned 186 cards featuring artwork for what were then some of Capcom's latest games, as well as classic arcade and console titles. While only a handful of these are Rockman related, this one in particular caught my eye. It's not technically to do with the Rockman series at all, but rather Capcom's 1990 adventure trivia game Adventure Quiz 2: Hatena? no Daibouken. So what's so special about it?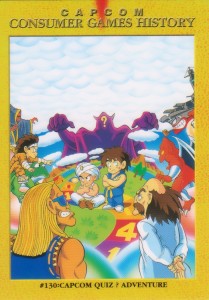 Dr. Wily! Hanging out with the likes of other Capcom quiz challengers such as Damnd and Red Arremer. Looking years younger with that brown hair, too. He should really color it more often.
Other Rockman characters also appeared in the various Capcom Quiz games, like Capcom World 2. I'll have to check those games out sometime.
By the way, for those interested in more Rockman cards, The Mechanical Maniacs have a growing gallery of them! Worth checking out.