Since it seems readily apparent that I'm not going to get what I had planned for today done with all these distractions, let's do this instead. Zero's been confirmed for MvC3! I think most of us were already expecting it, but hooray just the same! To celebrate, it's time for some Carddas Zero action!
From Carddas' Rockman X collection, X2 series: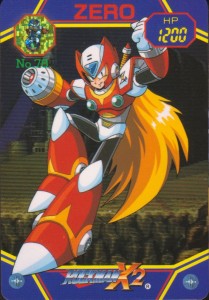 Rear side: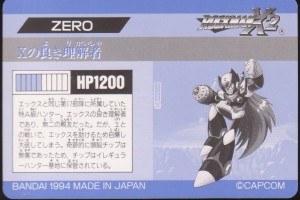 ZERO
X's Closest Ally
HP 1200
A Special A Class Hunter who belonged to the same 17th Battalion as X. He was X's best friend, and the one who understood him the most. However, during the battle against Sigma, he was severely damaged after using a self-destructive attack in order to save X. Miraculously, his control chip remained intact, and was recovered to the Irregular Hunter Headquarters for safekeeping.
---
So the story goes, even though the Hunters had Zero's control chip (essentially his electronic brain) available and in one piece, Zero's body was too mysterious and complex to be rebuilt by Dr. Cain; Zero was as good as dead. It would take a shadowy character by the name of Sagesse (or Serges) to come forward and restore Zero's body, with improved functionality.
Ready for more?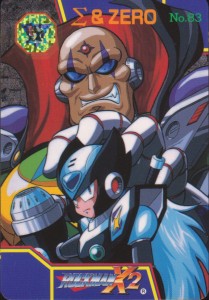 Rear side: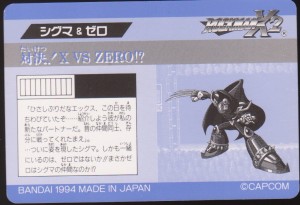 SIGMA & ZERO
The Confrontation! X VS ZERO!?
"Long time no see, X. How I've been looking forward to this day…… Allow me to introduce my new partner here. You two used to be comrades, back before he was liberated to fight as he desired."
…At last Sigma had shown himself. And standing with him, appeared to be none other than Zero himself!! But why would Zero ever join forces with Sigma!?
---
This card is the very first officially published depiction of Black Zero. As you may recall from X2, when X recovers all of Zero's parts, this dark colored copy will stand in for the real Zero, who arrives in the nick of time to wipe the floor with this impostor. If X failed to collect all the parts, Black Zero would still make an appearance at the end of the credits. The color of his armor gems in this image is a bit different from the in-game sprites.
Let's do one more!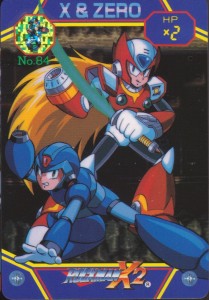 Rear side: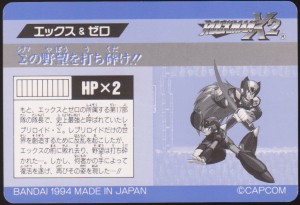 X & ZERO
Let's crush Sigma's evil ambition!!
HP x2
In the past, the repliroid Sigma was renown as the strongest warrior in history, and served as Commander of the 17th Battalion that X and Zero belonged to. Then, in order to create a world just for repliroids, he started a rebellion, but was driven back and defeated by X, his plans foiled… However, someone has managed to revive him, and now that insidious figure has appeared once again…!!
---
This card had more to do with Sigma than X and Zero. Still, we know that Sagesse and Sigma's evil plan has backfired! X and Zero team up once more to send Sigma and his forces back to the grave. When these two combine their power, evil never stands a chance. Throughout the many changes to the X series, that's one thing that's always stayed the same.
Hope you enjoyed this brief look at but one chapter of Zero's long history. We'll see him kicking more booty next year in Marvel vs Capcom 3!