Time for another Rockman X pic to brighten up the weekend!
---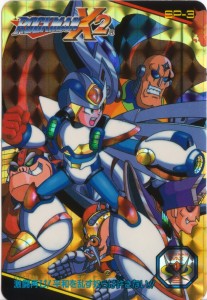 SP-3
ROCKMAN X2
Once more into the fray! These evildoers mustn't be allowed to disturb the peace!!
---
Jumping forward to X2, we can see that it was Violen's shoulder that was sticking out in our last card. X battles the X-Hunters and Sigma in his second armor. He's looking much better than yesterday! And look, yet another new holomark: "ROCKMAN X2 MAX" (or "ROCKMAN MAX X2")!
One more pic to go!