Starting the weekend a little early here!
Just like the last free pic weekend, one image goes up each day. So, what's the subject this time? Four Special holofoil Carddas cards from the Rockman X Revival series!
Rockman X Revival is basically a re-packaging of the Rockman X and Rockman X2 Carddas line, with 6 extra cards added to the mix. Four of those contained new original artwork, and those are the ones we'll be looking at this weekend!
Here's your first card!
---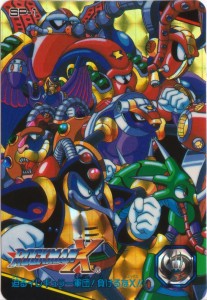 SP-1
ROCKMAN X
The Irregular army is closing in! Don't give in, X!!
---
A collage of the Mavericks from the first X game, but with a claw and cape Irregular holomark based on Sigma's X2 appearance.
The next card in the set will be up tomorrow!