The first three Rockman heroes, joining forces under one roof (to face the challenge of everyday life)! Your Rockman Perfect Memories manga today is from page 100.
---
It's the 15th Anniversary! Gather everyone together!!
Yuutarou Kawamoto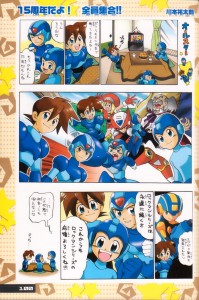 ALL STARS
Rock Volnutt: *yawn*
Rock Volnutt: We sure fought long and hard to get here, didn't we?
Rockman X: Yes, very true.
Rockman: Hard to believe it's been 15 years almost!
Rock Volnutt: And let's not forget about the new EXE direction, too!
Rockman X: May the Rockman series continue unto eternity.
Rockman: Please keep on giving the Rockman series your support!!!
Rockman X: …..Maybe we should have prepared a speech for the occasion or something.
Rock Volnutt: Yeah, maybe…..
---
I love the idea of our heroes hanging out in their downtime (and the servbot show that X is watching). As much as I enjoy the art and don't mean to keep pointing out artistic flaws, that fourth panel where she forgot to add Rockman's earpiece always jumps out at me. Did you guys notice?
Tomorrow: What's left?