In honor of Rockman's 25th birthday, I'm attempting something I've never managed to do in the past: 25 posts. IN A ROW. One for each year of Rockman's existence. I'll be putting up some very old and very rare stuff I've been saving for a special occasion. And this time, nothing's gonna stop me… Unless maybe the world ends after all.
It's 25 Days of Rockman.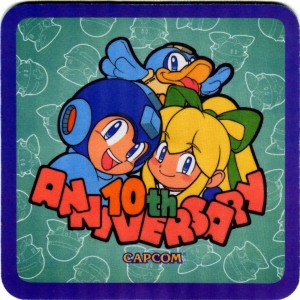 Today's image is from the official mouse pad that commemorated Rockman's 10th birthday back in 1997. Yes, it's not all that rare. Don't fret, I'm just getting warmed up.