Here's a random bit of the past for the TRUE FAN: an ad for the Nubytech MMX controller that ran in magazines and even the GCN Mega Man X Collection booklet.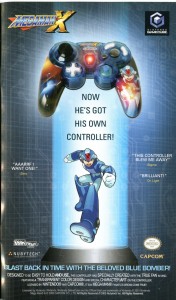 Copy reads:
NOW HE'S GOT HIS OWN CONTROLLER!
BLAST BACK IN TIME WITH THE BELOVED BLUE BOMBER!
DESIGNED TO BE EASY TO HOLD AND USE, THIS CONTROLLER WAS SPECIALLY CREATED WITH THE TRUE FAN IN MIND, FEATURING A TRANSPARENT COLOR DESIGN AND SPECIAL CHARACTER ART ON THE CONTROLLER. LICENSED BY NINTENDO® AND CAPCOM®, IT IS A MEGA MAN® FANATIC'S DREAM COME TRUE!
"THIS CONTROLLER BLEW ME AWAY" -Sigma
"BRILLIANT!" -Dr. Light
"AAARRF I WANT ONE!" -Zero
---
Poor Zero, dogged again.
I have this controller. It's not bad. A bit smaller and sleeker than the standard GCN controller. Dual Z buttons are nice, but all the shoulder buttons seem to stick a little. I've heard it is supposed to light up, but I don't believe mine ever has. Maybe that was a concept idea they later dropped, along with the PS2 version. I don't really have any insight that hasn't been given by other reviewers many times since 2006, so… That's all.