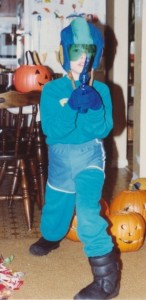 That was me back on Halloween of 1990. I know, it's not exactly the best Mega Man kids' costume ever made, but considering our circumstances back then, it was pretty amazing and as far as I'm concerned I have the best mom ever for making it for me.
In my typical "let's wait until the last minute" fashion, I didn't decide on my costume idea that year until the very week of Halloween, leaving my poor mother essentially two days to pull everything together. And let's remember that this was still just before Mega Man 3 was set to be released, and the only solid images she had to base the design on was the art on these two delightful items:
Trying to reason a common design between these two is no easy task. She even analyzed the game sprite from the NES and a commercial for Captain N the Game Master that happened to come on tv to act as tie-breakers.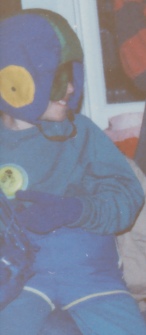 As you can see, we ultimately wound up with a turquoise sweat shirt and sweat pants combo with blue jogging shorts over top and a tall dark pair of boots. Yes, that's a blue squirt gun I'm wielding, since the majority of the references used agreed that Mega Man carried a gun. I have no complaints, since I loved that my weapon could be used to to "zap" things (with freezing cold water). The helmet, the most intricate part of the design, was made by putting cloth over my father's old leather rugby helmet, adding ears and some padding for the "stripe". Last but not least, she made a plastic visor cut from a 7-Up bottle and fit it into place along the inside of the mask (the plastic wasn't long enough to fit from ear to ear). I'm also wearing a glow in the dark button of some kind there, but I think that was something to do with rampant fears at the time that sending your kids out in costumes that were "too dark" would result in them being mowed down by a car. This did not happen, but I suppose I can't prove it wasn't thanks to that button. Thanks for everything, mom.
To all my readers: may all your Halloween memories be as just as incredible.