Christmas is just around the corner (one week left!) so here to show us the latest look for this winter is none other than that renown pirate fashionista, Tron Bonne herself!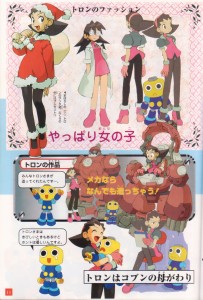 From the Tron ni Kobun Treasure-Trove Guide, page 11B:
She's quite a girl
Tron's Fashions
A vision of Tron as Santa. Are those presents in that bag!?
Tron's Works
If it's mechanical, she can build it!
"Miss Tron built every one of us."
Tron is like a mother to the Kobuns
"Miss Tron may be strict at times, but she's really very kind on the inside!"
---
That pic of Santa Tron's been floating around the internet forever, I know. Actually, it might have been since 1999. But it's still kinda cool to see one of the places it was first published in, right?
You may remember that lab coat and glasses Tron was a design idea they had from the very beginning of her character that they finally got to utilize in Tron ni Kobun. There's also a few nice images of Tron with the Gustaff, which was also introduced in that game.
This book is actually organized into two different sections, one going left to right and another right to left. This page from Tron's bio was page 11 from the Big Encyclopedia of Secrets side, hence 11B. This section is more focused on plot and artwork, while the other is the main guide section for the game itself. Expect to see more excerpts from this book later on!