Another of these requests I've been meaning to do, though not for as long as the last one. The Rockman ZX Arranged Soundtrack "ZX Tunes" came out in 2006 and sported 8 different CD title cards, each with a unique cover created by an artist who worked with the Rockman series. Apparently images of these covers are hard to find now, and since Google Images let me down, I went ahead and scanned them for my friends over at Capcom Unity.
First is the standard cover used for most press and media. It was designed by Inti Creates' own ZX series artist and scenario writer Makoto Yabe.
(Click images for larger version)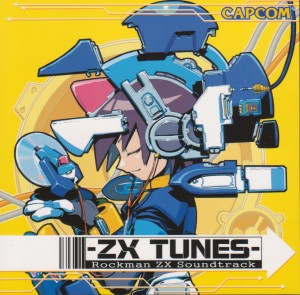 How did Aile know Model X could be used as a CD player? Biometal is totally retro-chic.
Yabe also designed this alternate cover as well. Vent and Giro make a stand back to back and saber to saber, with female leads Aile and Prairie in the background. The scene may be impossible in terms of the story, but the image captures Vent and Giro's indomitable fighting spirit, Aile's playfulness, and Prairie's devout support rather well.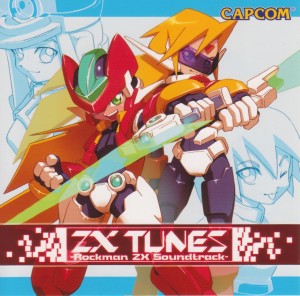 Up next, Inti Creates artist Hidetaka Katsuki puts forth a cover that truly goes green. This otherworldly image portrays Model X in what at first appears to be a forest, but upon further inspection its "trees" are actually metallic structures covered in developing vegetation. This merger of ancient machines with biological life works as a metaphor for the converging nature of humans and reploids in the series. Is Model X being overrun by plants, or in this serene setting, have they actually achieved a kind of equilibrium? A fascinating piece to reflect upon.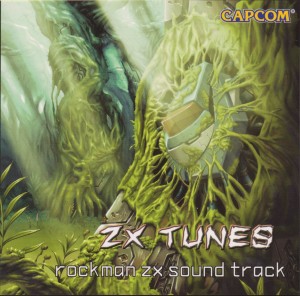 Inti Creates' Rie Ohnishi took a cuter approach, showing off heartthrob idol Girouette in all of his cartoonish glory. Hip and adorable!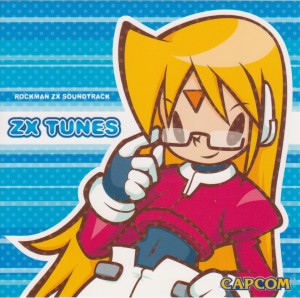 No Inti Creates cover party would be complete without Toru Nakayama, designer of the original Zero series look. He's since left Inti Creates to do freelance work, but he's still had a hand in various areas of art production for all the Zero and ZX games. I like to think this piece represents the energy, determination and style from Zero, passed on to our new protagonists.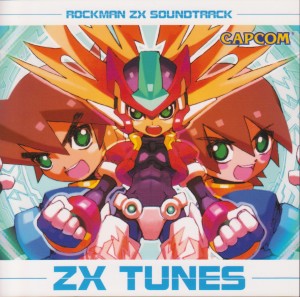 They didn't just stick to Inti Creates, however. Hideki Ishikawa, who was a Capcom artist for several Rockman titles but is also now freelancing, came up with this colorful and incredible cover that's exudes motion and music. Starring a hipster Aile who's grooving to the CD's heavy sounds, with cameo appearances by Canis the replidog from Area C and several older Inti Creates arranged album covers. Certainly one of my favorites!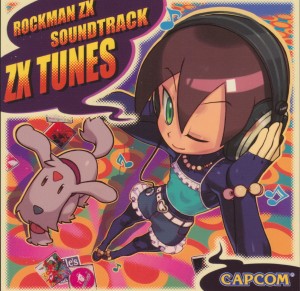 Rockman manga artists were also able to get in on the fun! Hitoshi Ariga, of Mega Man Megamix fame, produced this watercolor-esque cover starring a stoic but ready for action Model ZX with nemeses Prometheus and Pandora in the backdrop. Psychologically dark and moody, with a tinge of suspense!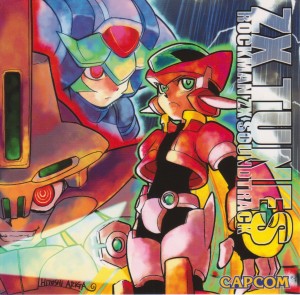 Last but not least, Yoshihiro Iwamoto of the Rockman X series manga put together this action-packed scene. You get a good sense of Model ZX plowing through its enemies, nicely capturing the rush of invincibility feeling you get from being empowered by our two legendary X series heroes. Unstoppable!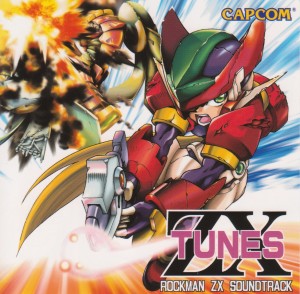 That's all 8 covers! Which one do you like best?